How much effort is actually behind a live event? What happens in the run-up to a trade fair and who is involved? These and other questions will be explored at the Future Talents Day.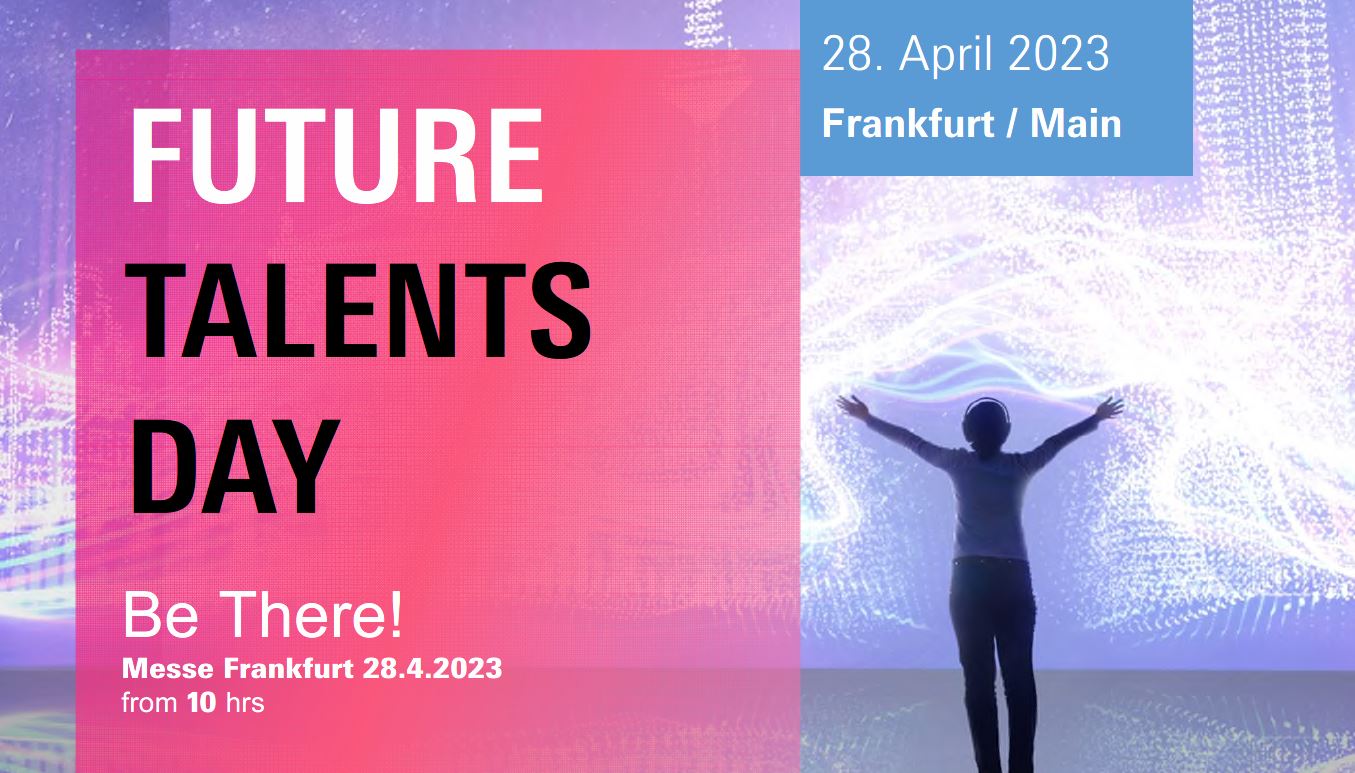 We invite you as interested young professionals to actively get a taste of the different trades and, for example, prepare a stage for a live event. You will learn what happens during a sound check, find out more about the sustainable event industry of tomorrow and have a look behind the scenes of one of the world's leading trade fair, congress and event organisers.
During the Future Talents Day you will get an insight into different professions in the event industry and will be supported in your career choice.
A full programme awaits you
The programme will be held in English
Are you still at school and would like to find out what our industry has to offer?
We'll show you!

Behind the Scenes @Messe Frankfurt (10.30 - 12.00 hrs, for students)
Messe Frankfurt is the world's largest trade fair, congress and event organiser with own exhibition grounds. To ensure that everything runs smoothly at the events, the employees give their best every day - in front of and behind the scenes! On a guided tour, you will gain exclusive insights into trade fair operations, get to know the sophisticated logistics in the Cargo Center, for example - and be there live when the meals and catering for tens of thousands of guests and stand personnel are prepared in a modern industrial kitchen. 
Technology live on stage (13.00 - 16.00 hrs, for pupils)
Who and what stands actually behind a live event? What happens beforehand and who is involved? You can get to the bottom of these and other questions. Together we will set up the stage for a live event, learn what happens during a sound check and make sure the setting is perfect. Afterwards, you can see what the result of your work looks like live at the performance of a surprise artist.
Are you a trainee or student, have you gained some initial experience or are you about to start your career?
Take this opportunity to network with the exhibitors at Prolight + Sound.
"Talents Rallye" (possible all day)
The "Talents Tour" brings you and companies together on the Prolight + Sound exhibition stands. With the help of various questions that you have to answer, you, as Future Talents, will get to know different companies in the industry. Whether "Tech Tour", "Event Technology for Event Managers" or "Sustainability in the Event Industry" - you choose the topics that interest you most for your future career.
The Future of Music Production (11.00 - 12.00 hrs, for trainees and students)
From syntablism and finger drumming to live beatmaking, the Performance + Production Hub at Prolight + Sound is an interactive experience zone for the latest trends in digital sound creation. Experts from the industry will present innovative music tools, give insights into their skills and let you improvise and experiment together in jam sessions.
Network now! (13.00 - 16.00 hrs, open area for everybody)
Network with each other and with your future colleagues from the industry and discuss together how your future professional field will develop: How does the event industry have to position itself today in order to remain attractive for the talents of tomorrow? What do you expect from your future career field? What makes a company attractive for young employees? How do we manage together as an industry to position ourselves sustainably for the future? These and many more questions will be answered in the Vintage Concert Audio Area in Hall 11.0.
Is this sustainable or can it go away? (15.00 - 16.00 hrs, for everybody)
Die Ärzte do it, Die Toten Hosen do it and Seeed do it anyway: they all deal with topics like sustainability and environmental friendliness. "The Changency", an agency for sustainable change, was allowed to accompany all the projects and chats out of the sewing box: What went wrong? What worked out great? Which band member was the most committed?
Organizer


Supporter of Future Talents Day